The foundation of our Chemical Products business originated with the advances in industrial handling technology obtained during the production of sulfur dyes and dye intermediates made by our founder, Masakazu Utsunomiya.
Based on this sulfurization technology, we are currently able to provide unique products, such as pharmaceutical intermediates, electronic materials, resin additives, cosmetics, and aids to the surface treatment of copper plating.
Of particular note, we are the only manufacturer in Japan of "1-thioglycerol (thioglycerin)" and "3-mercaptopropan sulfonate sodium", and we provide these to various companies.
In addition, with the focus today on global environmental issues, we are working proactively to create environmentally friendly products that make use of water-based technology.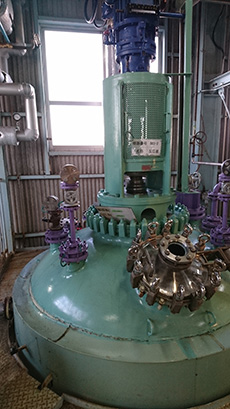 About Contract Manufacturing

Asahi Chemical is an enthusiastic provider of contract manufacturing.
A staff member from our R&D department consults directly with customers about their development and manufacturing processes, and our research department evaluates the information.
We will respond to your requests by identifying the most suitable production equipment to meet a customer's scheduling and quantity needs.
The manufacturing department is ISO9001:2015-certified and operates under a production management system that follows GMP (Good Manufacturing Practices) to provide the utmost quality assurance.
Expertise in these technologies:

Mercaptan synthesis reactions, high pressure gas reactions, Ullmann reaction technology, pigments, halogenation

Expertise in these fields:

Pharmaceuticals, cosmetics, electronic materials, resin-related materials, and functional materials